Just thought I'd post up a little overview of the stereo upgrade I did on my 2013 Rio 5 SX. I wanted to keep stock appearance and UVO functionality. I added sound deadening (RAA Matt BXII and Ensolite) and kept the sub simple and inexpensive with an Infinity Basslink, as I knew this would fit thanks to drsgbriggs (
http://www.kia-forums.com/car-audio...1-2013-kia-rio-infinity-basslink-powered.html
)
As for sound processing I am using a JBL MS8 that feeds a JL XD400/4 amp. Front doors don't offer much depth for speakers so I opted for Focal Polyglass 165 VRS putting tweeters in the factory locations. The rear doors have plenty of space so I went with Image Dynamics CTX 6.5's.
Overall I'm very happy with the final result. Complete factory operation with excellent sound! The one thing I will say is after tearing the interior down some I was really impressed with Kia's build quality along with fit & finish. I can see how this thing has no rattles and is pretty quiet from the factory. The other bit of advice I'd give to anyone attempting their install is try to not break any of the clips used on the doors & interior panels, I broke one and that thing cost $2.75!! Also it takes some guts to remove the trim piece around the stereo, it is pretty thin in the center and has some heavy duty clips holding it into place.
Here is another great thread that KikkoMax put up showing his speaker upgrade along with some pointers. (
http://www.kia-forums.com/3g-2011-rio/81315-my-own-speaker-replacement-experience-kia.html
)
Here are a couple pics of the process!
RAA Matt over doors and trunk area followed by Ensolite.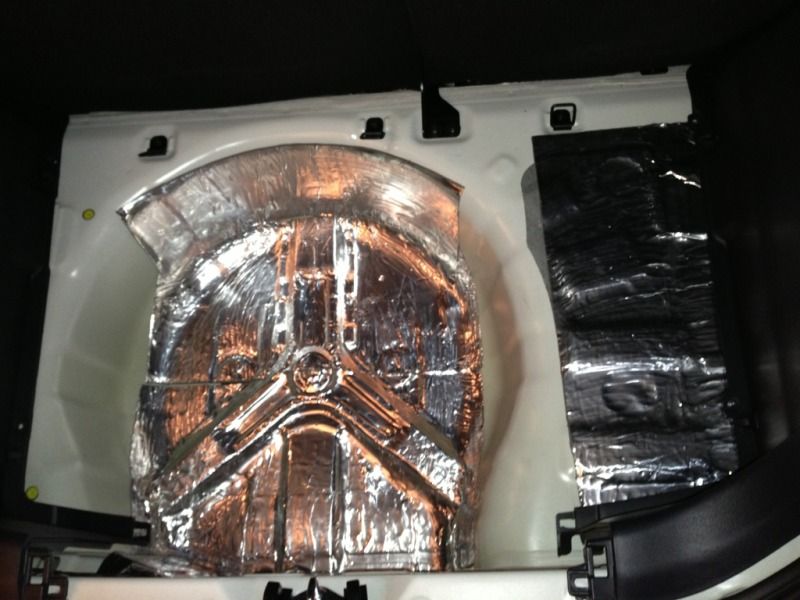 Amp and MS8 easily fit beneath the front seats.