Hey. first post on this forum. I am also a new member at another kia forum and just discovered this one. I am doing a very detailed install how to for this car so thought I would share the thread here in hopes of maybe helping out a few more people. This is not a fancy car show type custom install. its more of a how to too greatly improve sound quality and keep a factory look and function.
This will be a copy and paste from the other forum. I am currently still updating the thread. the install is complete but it takes time to upload everything and explain so have not finished the how to just yet. I will update here as well. this forum has a lot more category's so if this is in the wrong place mods feel free to move
Today Marks the beginning of my install. this build will consist of the following item(s) and it will be build around the factory head unit. I know this sounds odd to go through all this and keep the factory unit but i like the factory look and find that a very nice system can be built with just about any head unit with the right equipment.
polk MM6501 components in the front
POLK MM651 coax rear fill
pioneer GM 8406 4x100 RMS FD class amp for highs and mids
audio control LCQ-1 line driver with 13 band EQ
Rockford fosgate P300 12" sub
Rockford fosgate 300rms amp combo
two runs of 4 quage,
fresh 14 awg wire to all speakers
lots and lots of sound deadener.
As I have said in a previous thread, I am going to be starting an audio upgrade install this weekend. During the install I will be posting very detailed step by step pictures of everything that I do in hopes of providing a sort of "how to" for others that may not be so willing to tear these cars down. I know there is kiatechinfo.com and a few other places but in my search I had a hard time finding real world pictures which I find much more helpful. I plan to photo very wire run, location and how I did it. It will not be the end all be all for how to install a system it's simply just my personal methods and experiences. As I said in the
other thread, if you want to see something particular feel free to ask if I'm not already past that part. Tonight we will start with the dash and radio removal.
radio main
I found the best place to remove this trim piece is at the top. pay special attention to not scratch the surface. I am using metal if you don't feel you can be carful enough you may want to use something plastic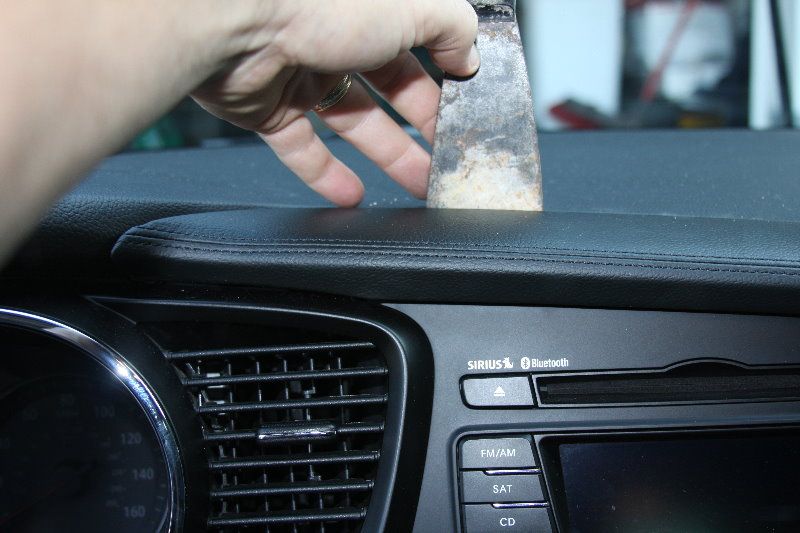 When you start to pry there are 9 clips holding it on. work your way around until they all come free. They are quite stonge so don't be to afraid to give it a good pull. Just take your time. If you feel its bending to much to not coming free try from the other side.
This is with the trim piece fully removed