2012 Kia Optima SX, 2014 Kia Cadenza
Hey Guys. Karbon Koncepts is doing a raffle/giveaway that was started by some friends of ours for a good cause. I recently blew my motor and am trying to raise funds by selling through inventory, offering discounts on products and offering some pretty awesome products in our raffle.
Please follow this link for more details:
Plasti Dip Wheel kit RAFFLE - benefits Karbon Koncepts
Karbon Koncepts has come to sponsor the raffle that has been provided by Jasper and G4z808 in our honor. I can't say thank you enough to everyone that has donated and has entered into our contest. If you have any questions, please do not hesitate to contact them or myself.
Donation is $5 to enter!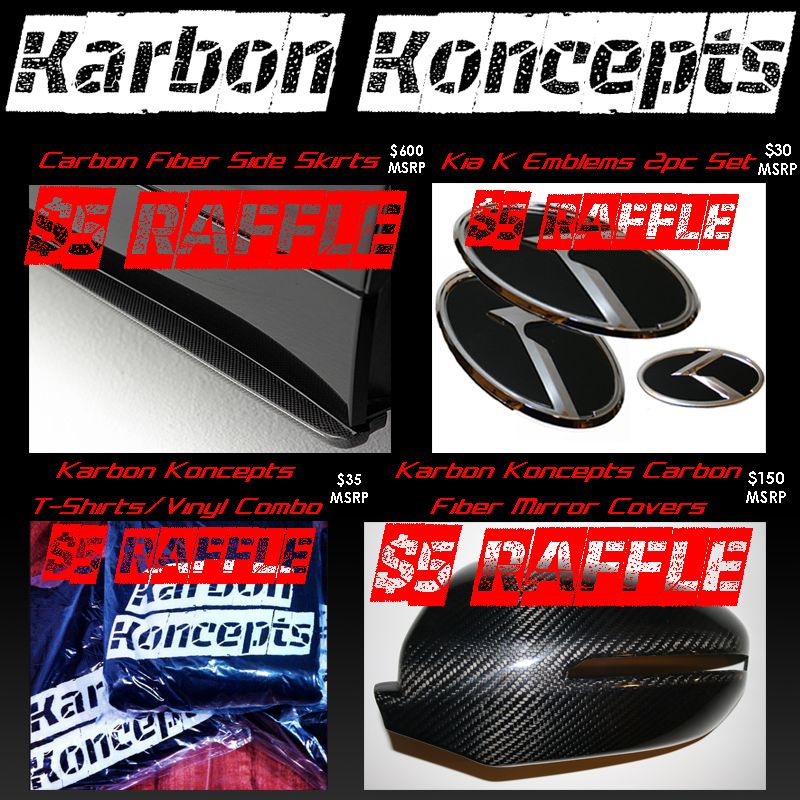 As of right now, I have added the following to the "pot":
(1) Set of Karbon Koncepts Carbon Fiber Side Skirts ($600 Retail Value)
(1) Set of Karbon Koncepts Carbon Fiber Mirror Covers ($150 Retail Value)
(2) (1)T-Shirt and (2)Karbon Koncepts Vinyl Combinations ($25 Retail Value)
(1) Set of 2pc K Emblems ($30 Retail Value)​