Tanz. Blue 2012 Rio Sedan,Al White 2013 Toyota PriusV
Aoi (A Blue Sedan Build Thread)
Hi Everyone,
I've been around on these forums for awhile ever since our cars started being sold and needless to say this community has very much helped my car get to where it is today.
I wanted to create a thread that I can document my car and share of the different experiences and things I've tried that may help out the other Rio enthusiasts out there on their cars.
I named her Aoi which is used to describe both the colour Green and Blue. Green being my favourite colour and Blue being the colour she is . (I spell these words with "u" cause I'm Canadian...sorry).
Up to this point most of my modifications had been cosmetic so I couldn't justify making a thread but I'm beginning to touch some performance stuff here and there so here we are.
Timeline
:
May 03rd 2012 - Purchased Vehicle (18 km)
May 17th 2012 - Brenthon Badge Swap (All except wheel caps)
May 26th 2012 - Visors Installed
Jun 13th 2012 - Lip Installed
I spent a lot of money on Badminton Gear here (too poor for mods)
Oct 10th 2012 - Shark Fin Installed
Nov 07th 2012 - Winter Tires Installed
A lot of snow and rain was not a good time to do Mods
May 24th 2013 - Enkei M52/Lugs Installed
May 27th 2013 - Fog Lights JDM'd
Jun 10th 2013 - Performance 1 Plates
Jun 13th 2013 - Exterior Highlights (Blue)
Jun 10th 2013 - Art of Stance Decals (not really a mod but love it!)
Jun 26th 2013 - Tinted 5 rear windows at 20%
Jun 26th 2013 - Lowered on STORM Spring System
Jun 28th 2013 - New Decals and Slim emblem
Jun 29th 2013 - Installed Custom Axle Back Exhaust, Re-tightened springs after settling
Jun 29th 2013 - Installed New Bulbs
Jul 10th 2013 - Installed KDM Lip Spoiler
Jul 14th 2013 - NGM SRI Installed
Jul 20th 2013 - Installed Stage 2 LED plate lights
Mar 20th 2014 - Installed Evillla Strut Bar (Blue)
May 17th 2014 - SFR Stage 1 GDI Tune
Modification List
:
[Installed] Brenthon Badges (Front, Steering Wheel, Rear)
[Installed] Aggressive Cut Smoke Visors
[Installed] Ez-Lip (Art of Stance)
[Installed] Shark Fin V2 (Visual Garage)
[Installed] Enkei M52 4x100 15'' 6.5 inch 38 offset (Stock Tires)
[Installed] Muteki Spline Drive Closed Blue Lugnuts 12x1.5
[Installed] Yellow Fogs Oracle 8300 Series
[Installed] Performance One Plate Covers
[Installed] Blue Trim Accents (SickSpeed)
[Installed] Storm Spring Lowering System/Paint Calipers
[Installed] 3M SC Tint 20% 5 Rear Windows
[Installed] Blue/White H4 9003 Xenon HID High/Low Beam Bulbs 8500K
[Installed] Kia Pride Slim Emblem
[Installed] Custom Axle Back Exhaust
[Installed] NGM Veloster Short Ram Intake (ImportShark)
[Installed] Interior LED Replacement
[Installed] KDM Rear Wing Lip Spoiler
[Installed] Brenthon Head Light Detail
[Installed] LED Stage 2 White License Plate Lights
[Installed] Evilla Motorsports Strut Bar (Blue) Shipped
[Installed] VicoVation Sf2 DashCam
[Installed] SFR Stage 1 1.6 GDI ECU Tune
[Sitting Under my desk] Saikou S1-OCC Catch Can
[Storage] Stock Wheels w/ SnowLeopord Winter Tires 185/65/15
[Future]Horn Splice, Mesh Grille, Vinyl Roof, New Wheel Setup
Enough words onto pictures!
The oldest picture I have of my car, I took it straight to my friends house for detailing from the dealership 5 hours later paint is completely sealed and waxed. Such a bad cell pic (Friend's C63 AMG in the back)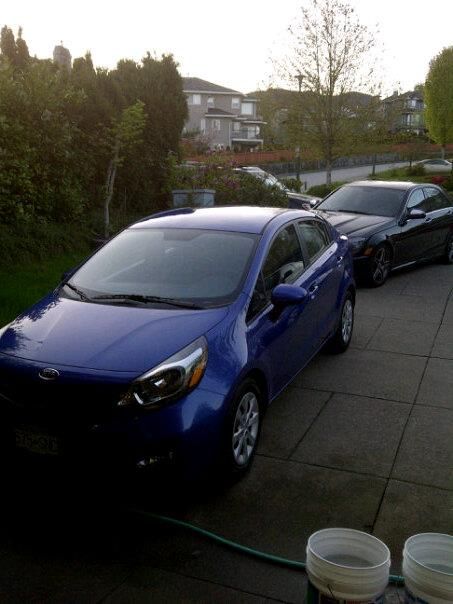 Here are the latest photos of my car! I will try to have pictures of mods as I have time to take pictures of them.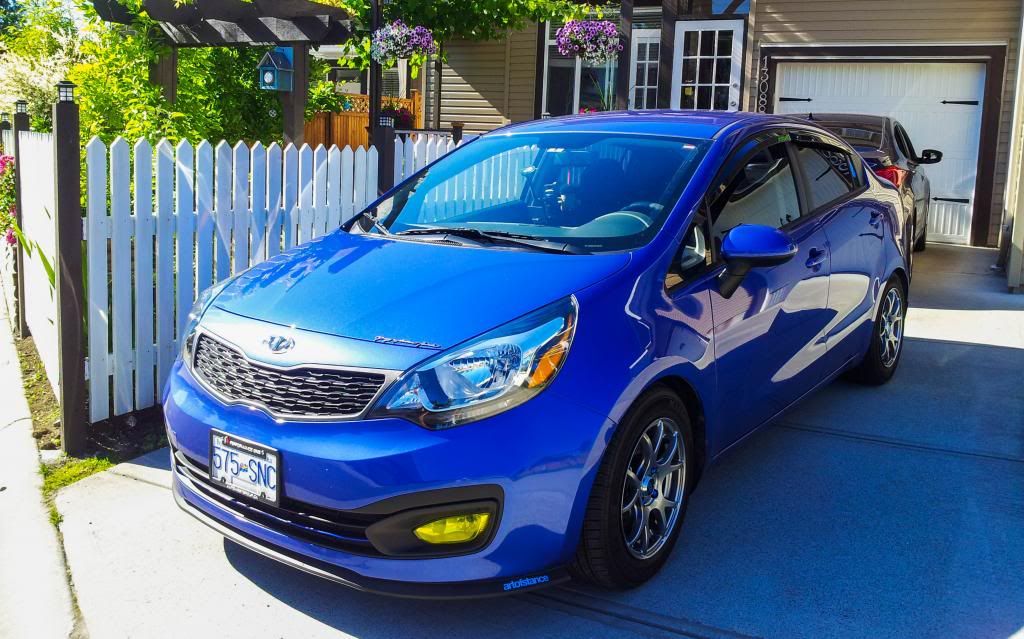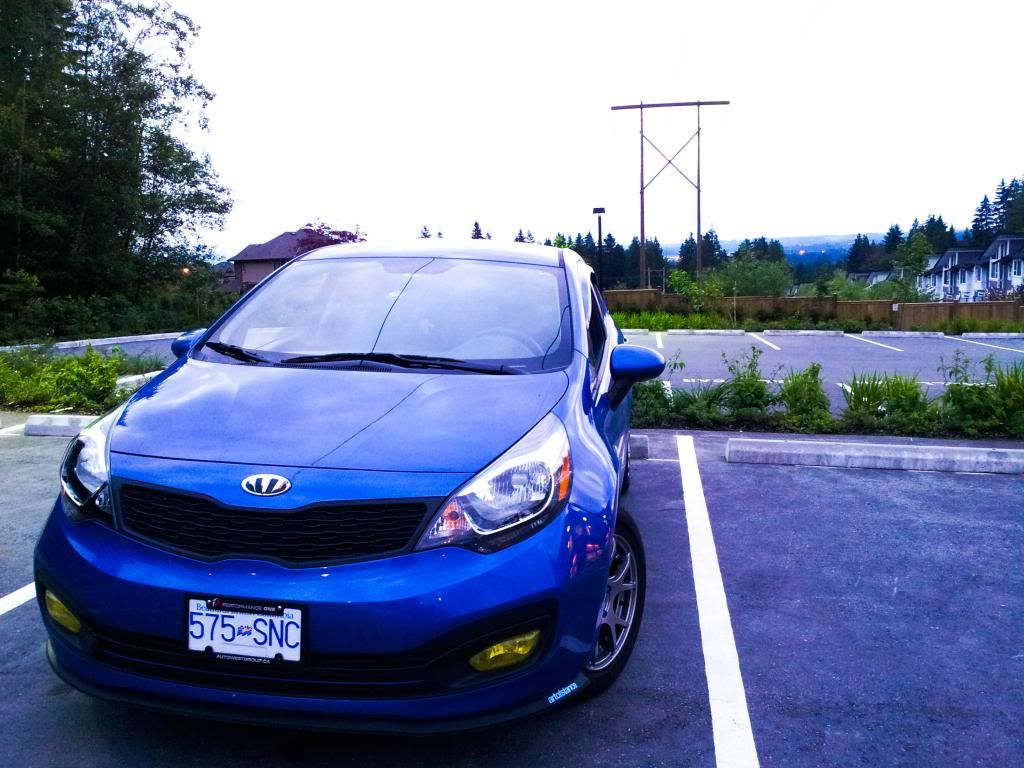 Thanks guys, I will update this as often as I get mods. Shoot me any questions you have!