UNAVI is an integrated and multi-media management aftermarket navigation system for your vehicle with OEM fit and finish.
It retains all of the factory features and controls, including iPod/MP3 playback, Bluetooth, Satellite radio, steering wheel control and climate control system.
+
RETAIN FACTORY AUDIO HEAD UNIT
+
RETAIN FACTORY AM/FM/SATELLITE RADIO (Sirius XM)
+
RETAIN FACTORY REAR-VIEW CAMERA & PARKING LINES
+
RETAIN 6-CD CHANGER (FOR APPLICABLE MODELS)
+
RETAIN FACTORY AUX/iPOD CONNECTIVITY
+
RETAIN FACTORY BLUETOOTH SYSTEM
+
RETAIN FACTORY STEERING WHEEL CONTROLS
+
RETAIN CLIMATE CONTROL SYSTEM
+
RETAIN
UVO
FUNCTIONS & INFO DISPLAY
+
3-YEAR STANDARD LIMITED WARRANTY
SYSTEM INFORMATION
- LCD SIZE : 7" or 8" LCD Touchscreen
- CPU: 1GHz
- MAP S/W : iGO Primo NextGen
- OS: Windows CE
- 800 x 480 WVGA Resolution
- QUICK MENU KEYS : Easy switch between radio and navigation modes.
- Rear-view Camera (CVBS) Input
- SD Card & USB Host for media playback features
- AUX Input & Output
- COMPATIBLE WITH FACTORY'S AUDIO :
Special Radio interface
OEM Look & Feel!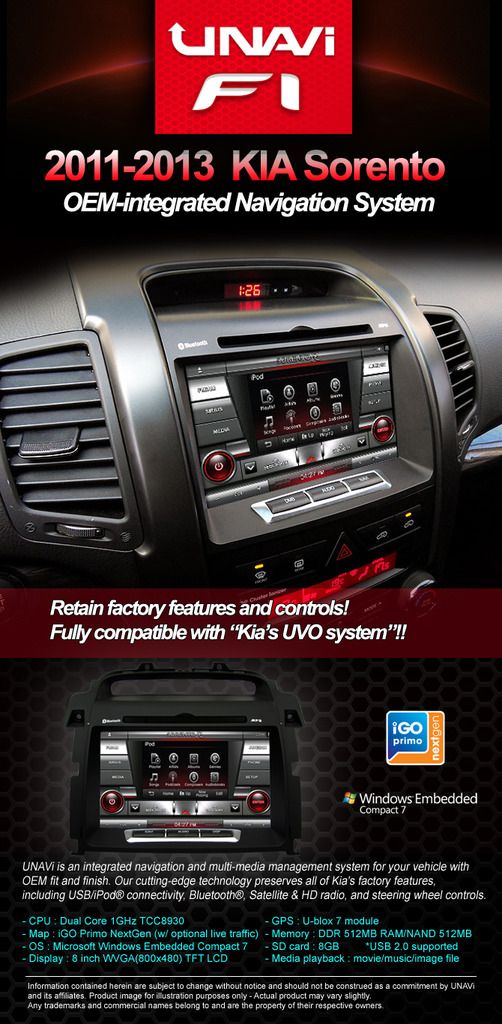 So Why Choose Unavi?
*We Are The
Manufacturer since Serving North America since 2009.
All product and support are based in California and headquartered in Korea. Fully staffed and trained tech support on stand-by for your needs. Always in stock, ready to ship.
*Nationwide Dealer Network
Experience Unavi's worry-free installation, repair and technical assistance by the industry's professionals.
*Hassle-Free Warranty
3-year manufacturer's warranty
comes with an advance exchange program.
If there is a problem you aren't left with a hole in your dash while waiting for repairs.
*Cutting-Edge Design
High-quality LCD and components engineered for OEM fit and finish.
All testing and R&D maintains a thorough process in Korea and the U.S. as it releases products to our valued customer base.
Unavi is anxious to be on the leading edge of technology.
*Maps
Preloaded maps of North America
developed by NNG
"iGO Primo"
-3D landmark/buildings
-Live traffic-ready (activation required via naviextras.com)
*Proven Stability
Since Unavi offers a three-year warranty and caters to dealerships, it is crucial that our products meet certain level of OEM standards and qualifications for safety and durability with extra bells and whistles.
Fully certified, complies with FCC/KCC and registered member of Bluetooth SIG.
Compare & Contrast with competitive products
• Standard 1-year warranty with no advance exchange options (always ask about their warranty)
• Radio replacement type, may lose some or all factory features and pay extra for satellite radio, Bluetooth, iPod connectivity and steering wheel control adapter harness
• Most units are made in China with inferior parts (actually makes sound quality worse)
• Limited inventory – they get them from the manufacturer on a per basis order
• Limited to no tech support/customer service; no presence in the U.S. or in the aftermarket industry
• Product still in development and/or not ready for shipping
• We never want our customers to be the "guinea pig" for products being introduced
• When it comes to factory integration on Korean vehicles, no one does it better
This thread intended for Unavi product Q&A.