Discussion Starter
·
#1
·
2013 Kia Rio Infinity Basslink powered subwoofer in spare tire well.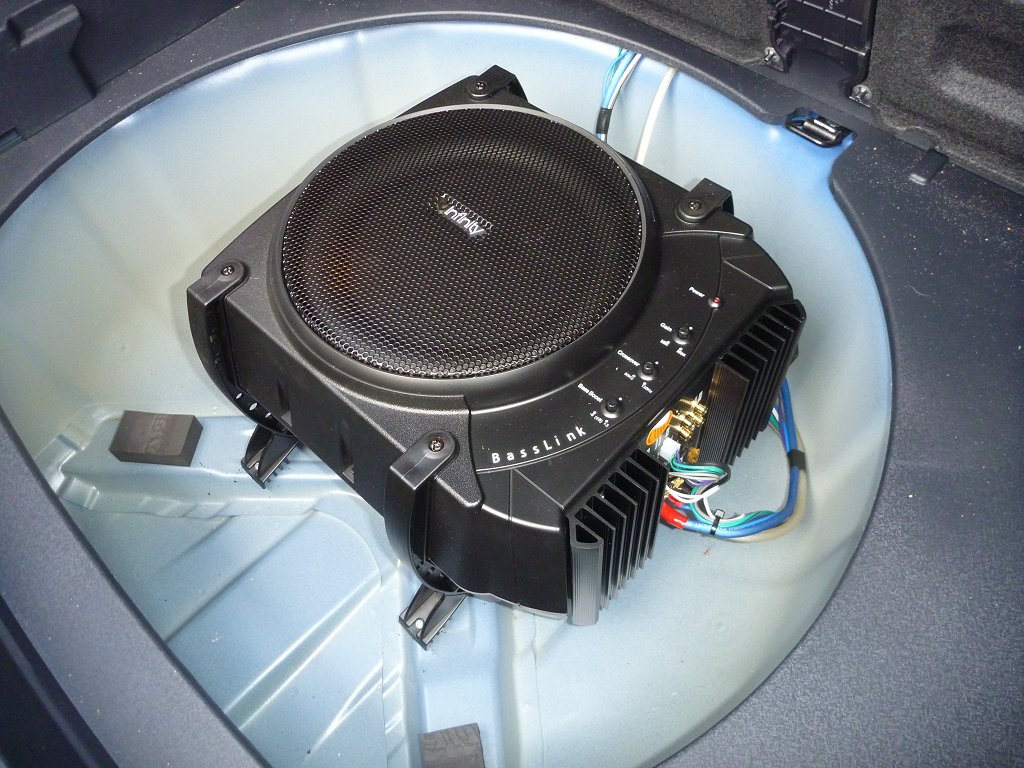 With the hinged cargo compartment floor closed there is about 2" of clearance over the sub. The sub's feet are mounted to the hollow braces along the floor of the well, so as not to penetrate the car body. I swapped the two 6.5" Kia OEM speakers in the front doors for Alpine SPS-610's, and overall the Basslink integrates really well with the rest of the system.
This has been a great solution to add moderate to loud-ish bass, and it integrates very well with the UVO head unit. Sub comes with a wired rotary attenuator so you can adjust volume on the fly. The Alpines definitely add clarity and soundstage, and are powered IMHO just fine by the stock head unit amp. Mostly I run the EQ flat and just add or subtract bass via the sub knob. I had been blown away by the UVO functionality, but the OEM speakers were definitely weak.
Cost of the sub was about $275 CAD (Sept. 2012, including border duty and S&H) and about $125 to have it installed. So, it is an easy $400 drop-in solution which adds a fair bit of quality lower-end WITHOUT SACRIFICING ANY CARGO ROOM so my wife is happy. It's a 10" driver and a 10 inch passive radiator. It is roughly 14 inches square, and 11 inches tall. The wired attenuator is mounted just to the left of the center console under the dash, close to your right knee. There are lots of tuning options on the sub box itself as you can see in the photo (bass boost -6 to +3 dB, crossover 50 - 120Hz, and an overall gain knob). If you wanted to fill in the entire well with a custom made box, you could probably accommodate a 15 inch sub, but it would be much more expensive, and mounting the amp under the cargo floor might introduce cooling problems. So far, I have had no overheating, but I have not tried it on a hot summer day after the car has been baking in the sun all day. I am very happy with the sound quality. I should say that in my younger days I have had custom one-off audio systems made that cost up to $6000 for previous vehicles. This is not going to shake the neighbourhood, but it is very reasonable sound at a cost-effective price.